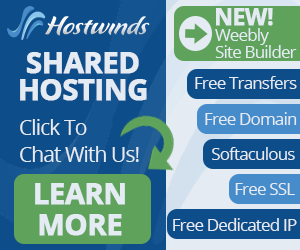 This post is a break from my normal content to share with you a little about the service that makes this website, email service, and all of my websites possible.  For the last few months, I have been hosting my sites, email and online storage with Hostwinds.
Not only does Hostwinds provide top-notch reliable service, but they do it at a price that is affordable for almost anyone.  I have tried cheaper services, slightly more expensive services, and some really high priced services to find the one that is right for me.  This has taken quite a few years.  Finally, this year, I chose Hostwinds as my provider of choice.  Ever since I switched to Hostwinds, my sites have never been down, have run smoothly and quickly, and have allowed me to run my businesses, blogs and life without the stress of wondering if my online presence would always be working.
Additionally, you don't have to be a tech wizard to get a great website up and running.  Hostwinds provides 24/7 tech support, and ready to use web site designer, and many other things that make it possible for a novice with websites able to produce a top quality online presence.
So, if you need a reliable, easy to use web host, check out Hostwinds.  Just click on the graphic above or any of the links in this post.
Happy web hosting!